Lawyers Alliance believes that the exemplary work and outstanding accomplishments of our volunteer attorneys deserve recognition from clients, peers, employers, and the general public. We are privileged to work with so many dynamic clients who not only are running extraordinary programs but also take the time to say "thank you" to our volunteers. Read about some of these exciting Volunteer Accomplishments. Contact us if you are an attorney interested in becoming a volunteer.
Cornerstone Awards
Since 1997, Lawyers Alliance has presented Cornerstone Awards annually to a select group of individuals and institutions that have made extraordinary contributions through pro bono legal services. These services help nonprofits to address critical human needs and improve the quality of life for thousands of low-income New Yorkers.
Lawyers Alliance presented the 2019 Cornerstone Awards for pro bono excellence on Wednesday, October 30, 2019 at Viacom.

Read the 2019 Cornerstone Awards press release.

The 2019 Institutional Honorees:
The 2019 Individual Honorees:
Lawyers Alliance for New York 2019 Cornerstone Award Winners
(Back row, left to right) Ira Rosenstein, Morgan, Lewis & Bockius LLP; Matthew H. Ahrens, Milbank LLP; Richard Hillman, Milbank LLP; Kenneth A. Gerasimovich, Greenberg Traurig, LLP; David Djaha of Institutional Honoree Ropes & Gray LLP; Patricia J. Graves, Goldman Sachs; and Aliya Sanders, Gunderson Dettmer Stough Villeneuve Franklin & Hachigian, LLP
(Front row, left to right) Christopher J. Palmese, Seyfarth Shaw LLP; Scott L. Bittman, Crowell & Moring LLP; Marci Settle, Arnold & Porter LLP; Austin Ozawa, Latham & Watkins LLP; Christopher Auguste of Institutional Honoree Kramer Levin Naftalis & Frankel LLP; and Laurie Nelson of Institutional Honoree Ropes & Gray LLP
(Not pictured: Matt Carter, O'Melveny & Myers LLP)
Photographer: Lily Kesselman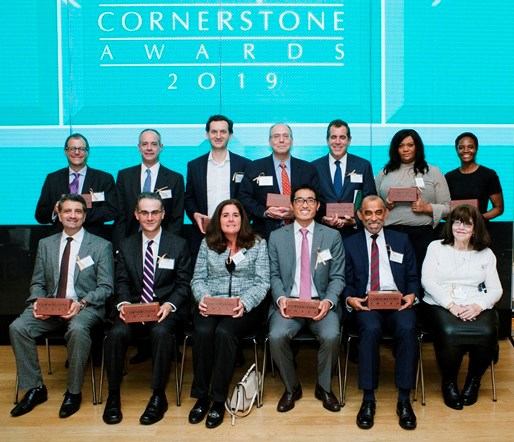 In addition, as part of our 50th Anniversary year celebration, Lawyers Alliance recognized our long-term volunteers with special 10, 15, and 20 Year Circles.
The complete list of Lawyers Alliance's Cornerstone winners from 1997 to 2019 includes 233 of Lawyers Alliance's more than 8,500 individual volunteers during this period.
Previous Institutional Cornerstone Award winners include:
2018:
Bloomberg L.P.
O'Melveny & Myers LLP
2017:
Latham & Watkins LLP
Mayer Brown LLP
2016:
Cahill Gordon & Reindel LLP
Dentons US LLP
Additional Honors
Volunteer Accomplishments: Lawyers Alliance regularly identifies outstanding volunteers who reach a milestone in their pro bono project and issues a "Volunteer Accomplishment" announcement recognizing this work. These callouts are available in the Resources section.
Bar Association Awards: Many of Lawyers Alliance's volunteer institutions have received accolades from state and national bar leaders for their business law pro bono work. We are honored to have nominated a strong list of winners of American Bar Association and New York State Bar Association pro bono awards.